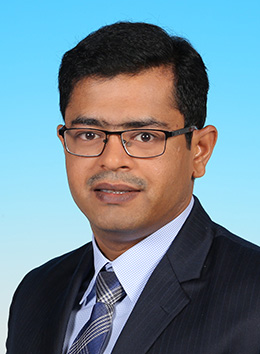 Prof. Abhishek Kumar SRIVASTAVA
Assistant Professor
Department of Electronic & Computer Engineering
The Hong Kong University of Science and Technology
Clear Water Bay, Kowloon, Hong Kong

email: eeabhishek@ust.hk
---
Biography
He received his Ph.D. degree in 2009 from the University of Lucknow, Lucknow. He has been nominated as the Senior Member of the Society for Information Display, the USA in 2017. He received Young Scientist Fast Track Fellowship from the Department of Science and Technology of the Gov. of India, and ILCS Early-Career Award: The Michi Nakata Prize for his early career efforts in the Field of Ferroelectric Liquid Crystals and Photo-Alignment from International Liquid Crystal Society. He has published 127 research papers and holds 28 patents/patent applications and he is an associate editor of the Journal of the society of information display, Wiley.
Recent Activities
I-zone Best-Prototype of the year 2018 for the Field sequential color Display based on ferroelectric liquid crystals at SID display week, 2018, LA, USA.
KIDS Bronze Award–2018, sponsored by LG display, for the ink-jet printed Quantum rod enhancement films for LCDs, at IMID-2018, Busan, Korea.
Senior Member, Society of Information Display, USA, since 2017.
Distinguished Paper Award, For FLC field sequential color LCDs. SID Display week, 2018, LA, USA.
Distinguished Paper Award, For FLC based LCOS, SID Display week 2015, San Jose, USA.
Distinguished Paper Award, for Photo-stable Azo Dye Photoalignment Layer, IDMC-2015, Taiwan.
Michi-Nakata Prize -2014 for the Outstanding early-career achievement in the field of liquid crystal by the International Liquid Crystal Society, USA.
---
Congratulation to Zhengnan YUAN (Sonia) for getting the Distinguished paper award from SID Display Week 2022!
Congratulations to Mallem for his paper being accepted in ACS Applied Materials & Interfaces!
Congratulation to Eric and Maksym for their paper in Adv. Mat. !
---